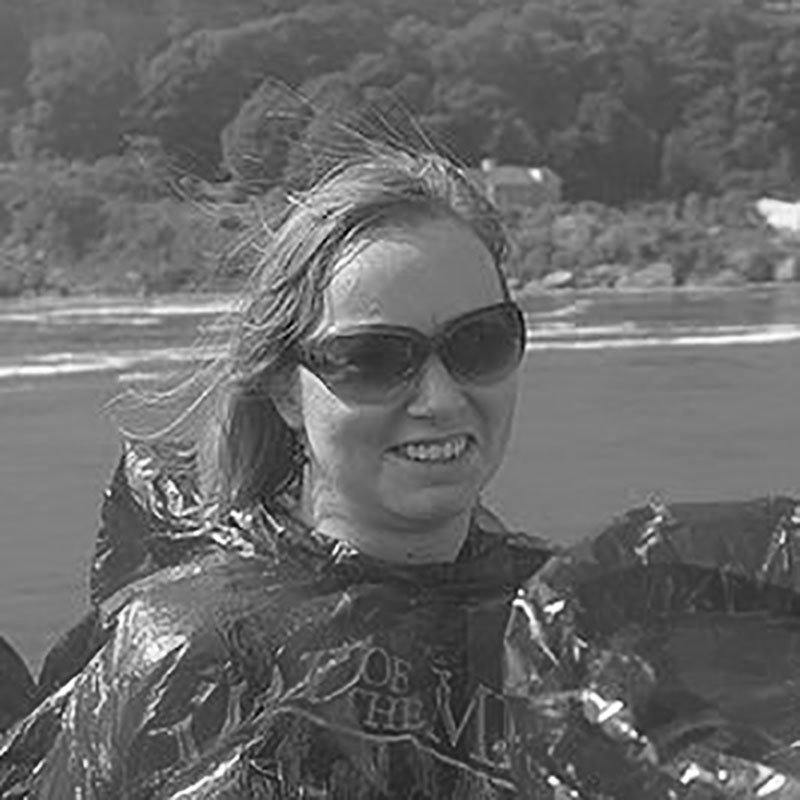 Julia McNeil was born November 24, 1974 in Utrecht, Netherlands. She was raised in the Children of God, aka The Family -- an abusive religious community closed off to many aspects of secular society. At the age of 19 Julia left The Family and moved to Canada. Without an education, support system or money, Julia quickly joined the outskirts of marginalized society and struggled to make a living and a life for herself. Julia became involved in the underworld of exotic dancing and escort services.
Against all odds, Julia fought to better her life. Rather than accepting her misfortunes Julia determined to change her life and rise above. Highly intelligent, she taught herself computer programming and worked her way to a position as a senior computer programmer and project manager at the Hospital for Sick Children in Toronto, Ontario.
Knowing how difficult it was to leave an isolated community and integrate into society without a support system, Julia launched MovingOn.org in 2001. MovingOn.org was an interactive website where those who shared a similar upbringing could socialize and receive support. Julia explained her passion for creating this website by stating "for better or for worse, we share this legacy. Perhaps it's true that we can't escape the past, or our upbringing, but the cruelest irony of all would be to have to fight the demons we share alone." MovingOn.org shortly grew to over 5000 members and was integral in allowing second generation survivors to communicate in a safe environment with those with a shared past. For seven and a half years Julia tirelessly moderated this website, answered thousands of emails and helped others sort through their demons and move on, creating a productive life for themselves.
In addition to the moral support provided through MovingOn.org, Julia's dream was to create a foundation where those raised in cults could receive physical support as well. She recognized that there are hundreds of thousands of children and youth who are raised in cults or restrictive organizations who face similar challenges when leaving. These youth need assistance when integrating into society. Through this recognition, Julia founded Safe Passage Foundation in 2003. Safe Passage Foundation is a not-for-profit 501(c)3 tax-exempt organization that provides resources, support and advocacy for youth raised in restrictive, isolated or high-demand communities, often referred to as "cults" by society at large.
In January 2009 Julia made the difficult decision to shut down MovingOn.org. She spent the next few years of her life following her dreams. She filled her life with education, love and passion. An avid reader with eclectic taste, Julia was quick to recommend her latest read to a friend. She was a self-proclaimed nerd, as versed in Harry Potter and Star Wars as she was in theology and romance novels.
It's impossible to peg Julia's interests into a single paragraph. She enjoyed wine, museums, music and walking her beloved cocker spaniel, Mona. To those who were lucky enough to know her well, Julia was thoughtful and insightful with a great sense of humor. She loved to play pranks on her friends or create photoshop images of friends in funny situations. Never one to mince words, Julia could always be counted on to give her honest opinion.
Julia was generous and caring. She opened her home to many people - from siblings to friends - assisting others to get on their feet financially and emotionally. She spent her spare time researching new ways to help others. She was affectionately known as a "mad scientist" because she always had multiple plans for upcoming projects. To name a few, Julia's efforts included networking, speaking at conferences for cult survivors, establishing a crisis hotline, laying the groundwork for safe homes, and writing grants.
On 5 June 2012 Julia was taken from us too soon. At the age of 37 she lost her nearly two year battle with cancer. In her short life she touched more lives than she ever realized. She is an example of a woman who faced unspeakable struggles and turned her pain into something beautiful.
In a sense, Julia's passion to help other survivors was self-therapeutic. She sought to heal her life's pain by devoting herself to healing others. One of Julia's favorite quotes is a statement by Ralph Waldo Emerson that says "The purpose of life is not to be happy. It is to be useful, to be honorable, to be compassionate, to have it make some difference that you have lived and lived well." Julia embodied that statement. Despite her own struggles she lived her life for others. She was always honorable and compassionate. She indisputably made a difference in the life of others. She lived her life to the full. Julia lives on in Safe Passage Foundation and will live on in our hearts forever.